Remote Learning
PLEASE CLICK HERE TO VIEW A LIST OF RECOMMENDED SITES FROM THE GOVERNMENT TO HELP SUPPORT HOME LEARNING
Below are links to websites to help with home learning activities to help support you whilst schools are closed (to access the website, simply click the title).
Foundation Stage parents please see our class page entitled 'Home Learning Materials' for resources and websites!
This page will be updated so keep checking back!
Maths
To support your child's learning during school closures, we're offering you an online version of your child's maths textbook and workbook called Parent Guides. To take up this offer please email the school office with a parent/carer's first name and surname, their email address and the name of your child/ren and year group/s that your child/children are in. Please note that this is only available for children in Years 1, 2, 3, 4 & 5.
You will then receive an email from Maths — No Problem! inviting you to create a password and login for your new MNP Hub account.
Once you're logged in, you'll be able to access maths content for your child's year group, along with help guides and lesson support.
ISEEMATHS - Information, resources, links, activities and live lessons hosted by Gareth Metcalf - a leading Maths educator. Lessons will appear from 9am on Monday 23rd March.
Worksheet Works - worksheet creator on most aspects of the maths curriculum
White Rose Maths - Maths activities for across the curriculum - packs have been released for closures.
Maths Shed - use to develop speed and rapid recall of key number facts and times tables
TT Rockstars - use to develop speed and rapid recall of times tables
Numbots - Y1 have logins - to increase number and fluency knowledge
The Maths Factor - Free Maths lessons from Carol Vorderman
First4Maths - Free creative, at-home maths based activities for each year group.
https://numberfunportal.com/- live youtube Maths learning videos daily at 10am, suited for F2 and KS1. You can catch up on missed videos on youtube too. Learning songs and resources on website to suit children up to age 11.
The Maths Factor - sign up for free for Carol Vordoman Maths
Mighty Maths - register for free 15 minute P.E./Maths sessions - the maths section is year group specific. https://homeschool.mightymaths.co.uk/?dm_i=50H7,717X,2JX4Y5,R6NQ,1
URBrainy - register for free home learning packs
Reading
myON - The team behind accelerated reading have released a limited time offer to thousand of free books online with no registration needed.
First News - Keep up-to-date with world events with a free download of the popular children's newspaper 'First News'.
Reading Realm - Short extracts to develop comprehension FAIRY TALE PACK NATURE PACK
Phonics Play - Phonics Play have made their website FREE whilst schools are closed.
Phonics Play Comics - Phonics Play have included decodeable comics within their free website.
Monster Phonics - Phonics support
Teach your Monster to Read - An interactive app to support phonics and reading
Amazon Audible -Access to all children's books online and read aloud and all currently free
Literacy Counts- Support materials all based around fantastic children's books.
David Walliams Stories - David Walliams reads a new short story every day for the next 30 days.
Oxford Owl - Free ebooks to read. Tablet friendly - just requires a free register
Collins Big Cat ebooks - Free ebooks to read.
Reading Recommendations - Activities to support and develop reading, based around some fantastic children's books.
Reception & Y1 daily phonics lessons https://www.youtube.com/channel/UCP_FbjYUP_UtldV2K_-niWw (Letters and sounds for home and school)
Writing
Talk4Writing - Writing tasks designed and led by Literacy specialists
Pobble365 - Comprehension and Creative Writing tasks based on pictures
Once Upon A Picture - Comprehension and Creative Writing tasks based on pictures
Literacy Shed - Comprehension and Creative Writing tasks based on film clips/trailers
Writing Challenges - Writing Challenges and daily sessions to develop writing different genres
Literacy Company - Free home learning packs organised into year groups
Literacy Counts - Free story time and home learning packs organised into year groups https://literacycounts.co.uk/parents/
General
BETH TWEDDLE GYMNASTICS - this year we have had Beth Tweddle Gymnastics school come in to teach different year groups gymnastics. They are continuing with this at home by offering home learning packs to develop gymnastics in a cross curricular way.
Week 1: TEAMWORK
Week2: FRIENDSHIP
EASTER QUIZ - fun family quiz for the Easter holidays
TEACHERS PET- www.tpet.co.uk - free home school learning packs for EYFS,KS1 and KS2
An uplifting song made free by the company PopUK (whom we have worked with over the last couple of years) to join in with.
Home learning packs have been designed for each year group to help support children at home.
Free downloads, advice, activities and resources on how to stay safe and keep children safe online.
The Schools Musicals Company have offered some free musicals for your kids to put on a show.
Free music and downloads of songs and activities we often use in school.
Minecraft is making its educational worlds FREE - 12 digital lessons available to download until the end of June.
A limited time offer to access free tutorials for aspects of the Reading, Writing and Maths curriculum.
IXL offers personalised learning in maths and English while covering hundreds of different skills for children in reception up to those in year 13.
Conquer crosswords, sort your way through different sounds or ace anatomy with Crickweb's 250+ lessons for children aged 4-11.
Step outside of the box with DKfindout and explore subjects as broad as transport, space, dinosaurs, and computer coding assisted by quizzes and videos.
Designed to support children aged 7-11, The Children's University of Manchester teaches history, art and design, languages, science and ancient Egypt.
A fabulous collection of over 3000 ebooks and audiobooks available for free.
Teach provides lots of curriculum-mapped videos arranged by subject and age-group with materials for early years students all the way up to secondary school.
With character quizzes, illustration tutorials, and interactive games, the BookTrust makes story time fun for the whole family.
You can register to the Third Space Maths Hub for free to explore a number of our resources available to download for free.
Watch films and write a review
BBC
The BBC are screening a number of educational programmes – keep checking their daily schedule.
Fantastic games website to develop different aspects of the curriculum
A very generous school has produced a plan for 7 weeks worth of activities - feel free to have a look.
A great website for educational games - some creative activities are also available.
Materials to support children with home learning.
A wide collection of free, curriculum-linked activities, games, videos and worksheets to support Maths, English and Health & Wellbeing.
A new service providing fun PSHE content, live music, daily exercises and interactive competitions.
Ideas for games and activities to help make learning fun.
Videos made for 5-11 year olds - RESOURCES ARE AVAILABLE TO CLICK AT THE BOTTOM - THESE ARE CHANGED/ADDED WEEKLY
4 teachers are offering to teach over the internet each weekday morning at 9.30am - a fun-filled show with all resources online and a blog for kids to publish their work to the nation!
Children enjoy yoga through the power of story
Zoos are closed although children can watch live cams at the following zoos;
https://www.edinburghzoo.org.uk/webcams/panda-cam
https://zoo.sandiegozoo.org/live-cams
https://www.paigntonzoo.org.uk/explore/webcams
Free craft and other activities:
https://www.orchardtoys.com/dept/things-to-do_d0127.htm?fbclid=IwAR1DoP292w54vFZ8k74gLh5iTg4BkMLZUEZUVlWOvagTip_TD1GvJ6gngvE
Weekly, easy-to-complete physical challenges. Don't forget to keep us up-to-date on how you are getting on!
Whilst stuck in the house, why not try out some of these virtual school trips!
The National Curriculum website has resources products that you could use to support your child's learning during school closures.
A new computing project that is offering projects and guides to develop children's understanding of coding - all with teacher led explanations.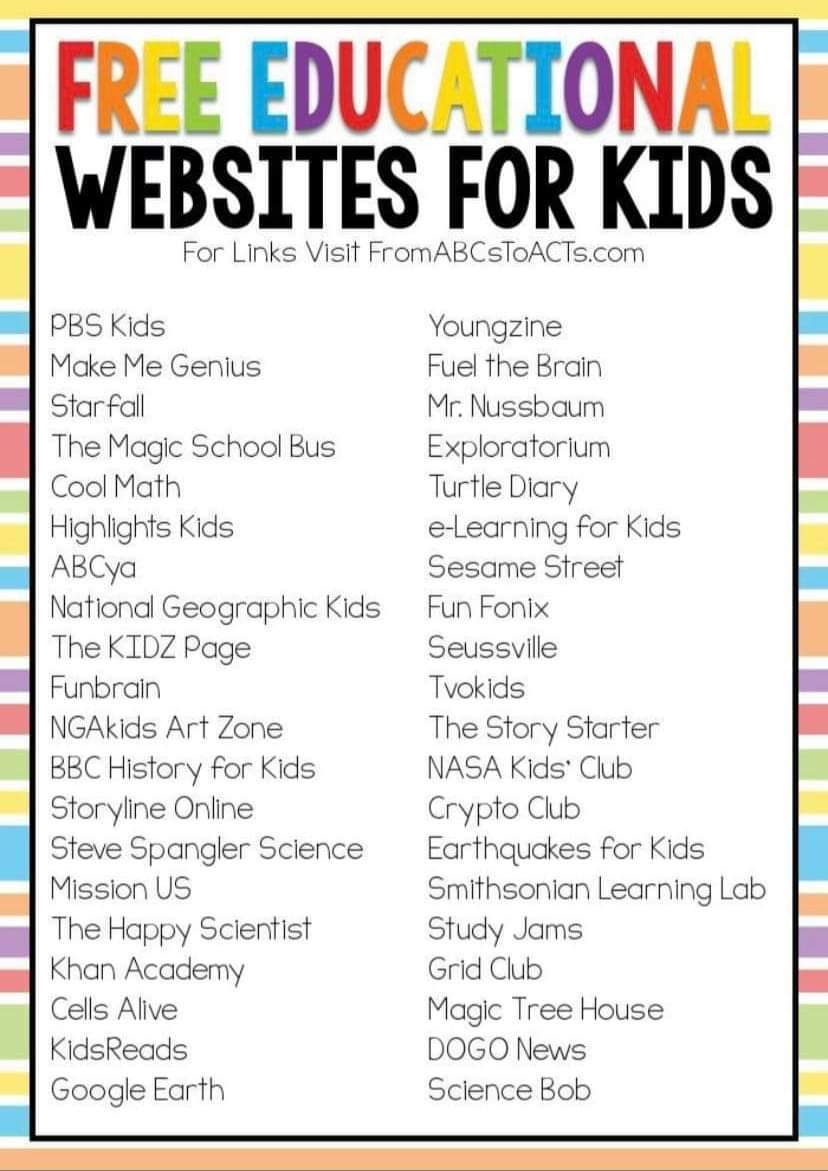 Files to Download